Parking at Walton Arts Center
Walton Arts Center is located in the entertainment district of downtown Fayetteville. There is not one specific parking lot for your use, but many different options in the immediate area. Walton Arts Center has worked with the City of Fayetteville to develop two event parking features for our patrons. Read more here, and call the Box Office at 479.443.5600 if you have questions!
Prepaid Event Parking
Walton Arts Center patrons can now purchase prepaid event parking for select performances and guarantee a reserved space in the Spring Street parking deck. Typically prepaid parking is not offered during shows in Starr Theater or for special events.
The reserved spaces are accessed from the Spring Street entrance of the parking deck where a Walton Arts Center attendant will confirm your name and direct you to your reserved parking spot. Reserved parking spots will be available two hours before the scheduled performance time and will be valid for up to one hour after the event ends. Please see the parking map below: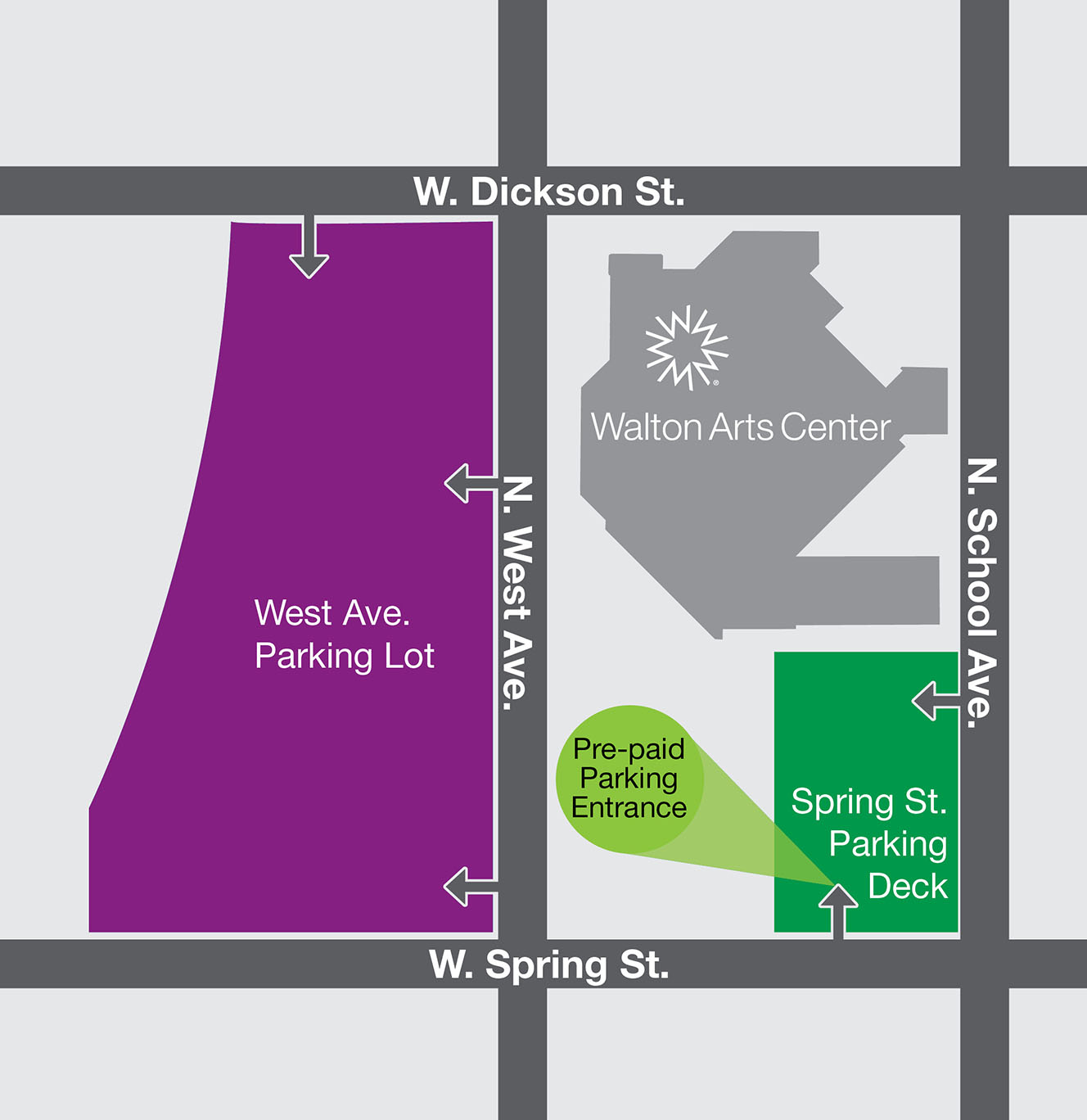 A limited number of spaces in the Spring Street parking deck are reserved for prepaid parking to help make patron's parking experience easier.
Prepaid event parking is available for $5 plus a $2 processing fee and can be purchased at the time that you purchase event tickets simply by selecting or requesting the prepaid parking option for the same date and time of your show. They can also be purchased in-person at the Walton Arts Center Box Office (during lobby hours) or by calling 479.443.5600.
Parking spots must be reserved 48 hours prior to the performance start time.
If you've already purchased tickets, it's not too late to add reserved, prepaid parking by calling Walton Arts Center's Box Office at 479.443.5600.
Event Parking
In an effort to make parking easier during our busiest times, event parking will be available in the Spring Street Parking Deck and in the main parking lot across the street from Walton Arts Center (corner of West Ave. and Dickson St.). Ticketholders will be notified by email when event parking is in place. Please make sure we have your correct email address for notification purposes. When event parking is activated, the fee to enter the lot will be $5 per car (cash or card will be accepted). Guests will receive an entry ticket upon payment which is good for the entire night. You are NOT required to place the ticket on your vehicle's dash, as enforcement officers are able to tell which spots are paid and/or unpaid. Tickets will be issued for cars parked in unpaid spots.
If you have any questions about this process, contact the box office at 479.443.5600.
Please note
- Event Parking will take place in the large lot directly across from Walton Arts Center and the Spring Street Parking Deck.
All other nearby lots will operate as follows:
With the exception of small private lots, all lots within a one-two block radius of Walton Arts Center's Fayetteville campus charge for parking AFTER 2PM each day. Also, all street parking is either paid or residential. Free parking may be available in private lots within a 3-7 block radius; please obey the signs posted in these lots.
City of Fayetteville Parking
The City of Fayetteville's Parking Management Department operates numerous parking lots, parking decks and metered on-street spaces in the Downtown area and Dickson Street/Entertainment district. In addition to City-managed parking, there are several privately operated parking facilities in these areas. Click here to learn more about city of Fayetteville parking.