Visual Arts
Joy Pratt Markham Gallery
The Joy Pratt Markham Gallery presents exhibitions of works by both emerging and internationally recognized artists. You're invited to explore new perspectives on nature, identity and community.
Joy Pratt Markham Gallery Hours
Monday-FRIDAY | 10AM to 2pm
Gallery will open 60 MINUTES prior to most performances and remain open up to FINAL CURTAIN OF most performances
Gallery admission is free
Private gallery tours may be scheduled in advance by emailing visualarts@waltonartscenter.org. Please arrange your tour at your earliest convenience. We request three business days' notice to schedule tour guides.
Exhibitions
100 Photographs by Andrew Kilgore
DATE: Jan. 6-March 19
EXHIBITION OPENING RECEPTION: Friday, Jan. 6, 5pm-7pm
"I am an artist because I am endlessly fascinated by the raw edge of physical beauty." For over 50 years, photographer Andrew Kilgore has captured genuine moments of openness and vulnerability in special groups of people who share the quality of being marginalized or "unseen" by the general public.
Creative Conversations with Andrew Kilgore
The 50-year career of photography and advocacy for the unseen, different, misunderstood and marginalized.
Gallery Walkthrough
Listening Objects
By Steve Parker - artist, musician, curator
Click here to view Steve Parker's bio
Listening Objects, a project by artist, musician, and curator, Steve Parker is inspired by the practice of Deep Listening, developed by the late composer Pauline Oliveros, using sculpture to engage people in the art of listening. At the heart of this project is the creation of interactive sound sculptures that facilitate the simple, yet overlooked, act of focused listening. These objects are to be enjoyed by people of all ages and will be on exhibition in front of Walton Arts Center's Administrative Offices at 255 N. School Ave, in Fayetteville.
Listening Objects outdoor exhibit
Tubascopes

The Tubascope is a sculpture that originally worked like a telescope for your ears, but has been modified to live only as visual sculpture due to COVID-19. Modeled after obsolete acoustic locators of the 1930s, the Tubascope is made from reclaimed and repurposed brass instruments and copper tubing. Rather than produce music, the sculpture invites the viewer to engage in the simple act of focused listening.
Click here to learn more about Tubascopes
Listening Objects has been made possible through the generosity of a Mid-America Arts Alliance's Artistic Innovations Grant, with additional funding, exhibition space and support provided by Artosphere - Arkansas' Arts + Nature Festival, Walton Arts Center, INTERFORM, The City of Springdale, Shiloh Museum of Ozark History, Downtown Springdale Alliance, Arts Center of the Ozarks, and Scott Family Amazeum.
TOPO Map for School Avenue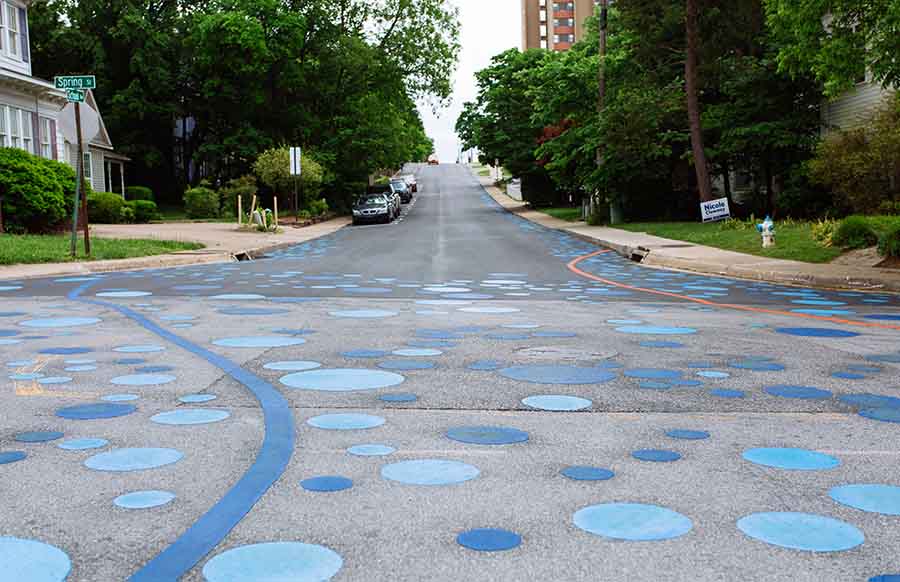 On display throughout 2018 and beyond
This is a temporary public art installation made of thermoplastic by artist Stacy Levy. City of Fayetteville and Walton Arts Center commissioned the artwork with support from the National Endowment for the Arts. Its form is a life-scale topographic map of the terrain between Dickson and Mountain Streets and a visual reminder of the issues of water in Fayetteville's hilly landscape.
Check out a video that explains how the installation was created and the inspiration behind it!
Learn even more about TOPO Map.