Sustainability at Walton Arts Center
When you think of sustainability at Walton Arts Center, you may initially think of our annual Artosphere Festival. And yes, Artosphere was created as a platform to discuss, learn about and contribute to conversations of sustainability by bringing in artists who inspire us to live more eco-friendly lives.
But, the values that drive Artosphere also play a vital role in our day-to-day operations and company culture.

Year-Round Sustainability Efforts
The introduction of Artosphere in 2010 launched an organization-wide sustainability effort at Walton Arts Center. Our Sustainability Committee – made up of staff from all departments – continues to research, evaluate and implement a variety of eco-conscious initiatives year-round.
Ongoing efforts include integrating more energy-efficient technologies and sustainable practices into our operations and work environment, including:
Storm Water Collection
Storm water from the roof is routed to our bio-swale, which treats the water through the soil before releasing it into the storm drain.
Energy-Efficient Operations
High reflectivity roofing helps keeps the building interior cooler and requires less energy for air conditioning. Daylight features in Starr Theater and McBride Studio give the option to use natural lighting for some events, instead of powered lights. High-efficiency plumbing and lighting fixtures are used throughout the building, and eco-friendly cleaning materials that have less impact on the environment are used organization-wide.
We have made major investments in upgrades to the HVAC systems, giving us greater control over energy usage. New variable-speed motors and computer controls allow us to run fans at lower speeds on moderate weather days and schedule lower energy use for unoccupied times in the theaters, effectively reducing our electricity usage.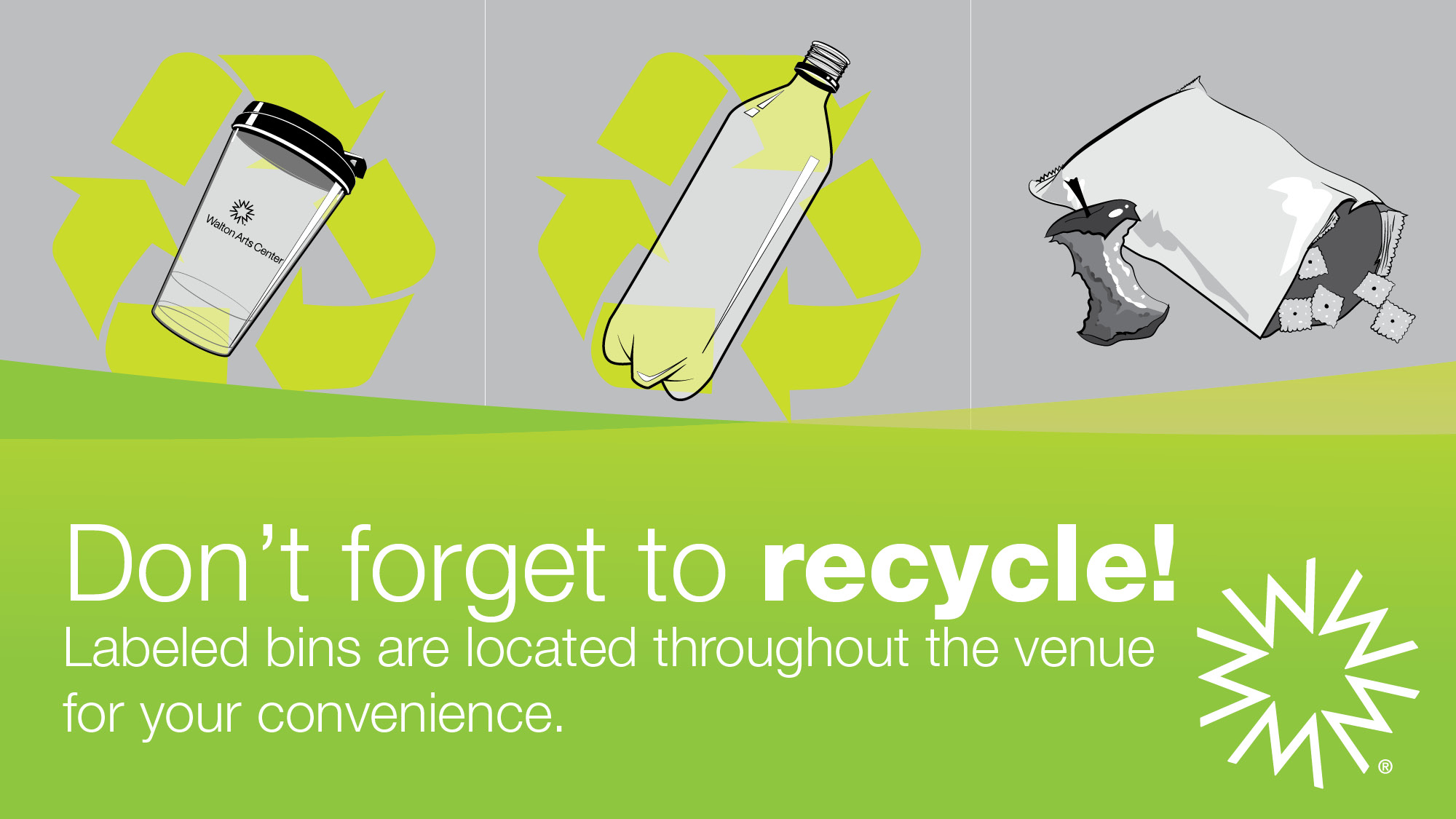 Recycling
Robust waste management and recycling programs are in place year-round, including the recycling of toner and ink cartridges, batteries, used electronics, paper, plastics and glass.
In addition to recycling, we have reduced the source of waste by striking disposable water bottles from all artist contracts and offering reusable bottles and ultra-filtered water from bottle fillers. In five years, we have eliminated waste from over 12,000 disposable plastic water bottles alone. We also introduced our signature souvenir cup in 2017 to replace soda bottles at concession stands. Patrons are encouraged to reuse their cup and bring it back with them each time they visit.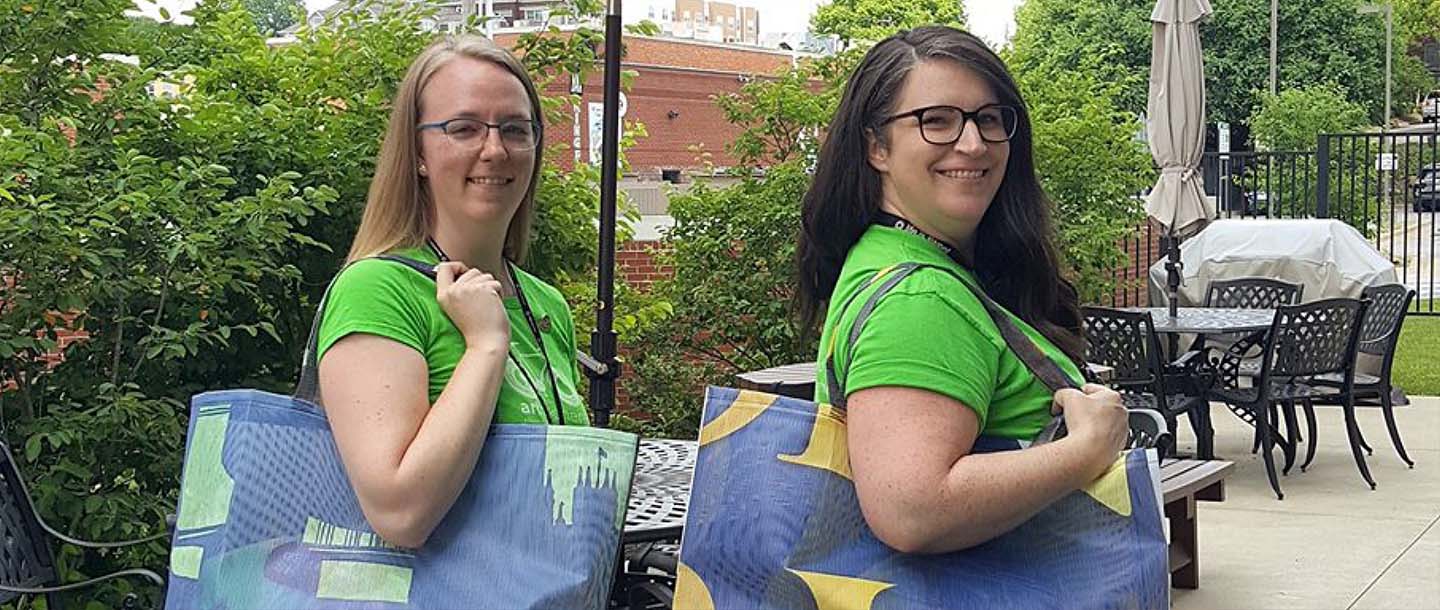 Upcycling
In 2018, we introduced Banner Bags that are made from upcycled show banners that used to hang outside Walton Arts Center. These upcycled bags are great for grocery shopping, carrying items to the pool or any occasion that calls for a reusable tote!
Batteries
In addition to collecting and recycling used batteries, our Production Team keeps all old batteries that have been used in wireless microphones during a production. These batteries are tested to see if they have enough juice to be reused internally for flashlights, soap dispensers, wireless keyboards and other purposes.
Office Beverages
We have eliminated disposable cups for coffee and water from our campus. In their place, glasses and ceramic coffee cups have been provided for guests and staff.
Bike Racks
Additional racks have been installed around the Walton Arts Center campus to encourage cycling to and from events.
Food Waste
We strive to keep as much of our food waste out of the landfill as possible. We donate leftover foods to local organizations that feed people in need. All remaining food is donated to dhFarm, a local farm that processes and uses these scraps to feed the hogs on their 60-acre farm.
These initiatives align with our goals as an arts center to improve the overall quality of life in Northwest Arkansas now and for future generations.


Have an idea for ways we can further our sustainability efforts? Let us know!